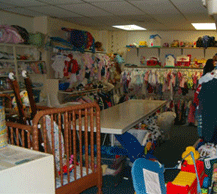 We can always use the following new or nearly new items:
High chairs

Breast Pump

Legal Cribs

Mattress in good condition

Diapers

Changing Tables

Strollers

Swings

Baby Clothes

Baby Shoes

Maternity Clothes

Books

Toys
City Market Community Rewards Program
City Market has transitioned their City Market Cares campaign to City Market Community Rewards. Along with changing the name of the program they are asking people to re-enroll.
Here's what you need to do:
1. Call 800 number on the back of your City Market card and give code 10170
2. Enroll using your City Market account
3. Select SLV Women's Resource Center in Alamosa as your chosen organization
If you need help enrolling you can come by the office and one of us will be happy to walk you through the process.

SAVE CHANGE TO CHANGE A LIFE
Pick up a baby bottle at the center and fill it up with cash. Fill out the information card for a tax reciept.
Return the bottle to the center