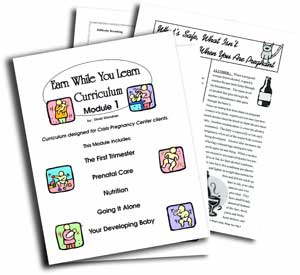 Our parenting curriculum is provided by Heritage House and of the highest quality. It is comprehensive and organized.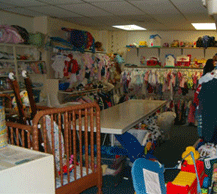 A key feature of the Earn While You Learn is that you can "purchase" brand new clothing and baby items with the "Mommy Money" you earn from attending class.
The lessons are fun, interesting and practical. We have videos that you watch as part of the class as well as talking with your volunteer teacher.
We can help you learn how to be the best parent you can be!
Topics Covered in 'Earn While You Learn' Include:
➢

Prenatal Care


➢ Nutrition
➢ Single Parenting
➢ Your Developing Baby
➢ Smoking / Alcohol / Drugs
➢ Ultrasound
➢ Bonding With Your Baby
➢ Your Changing Body
➢ Reducing SIDS Risk
➢ Getting Ready For Baby
➢ Infant Temperament
➢ Infant Massage
➢ Newborn Care
➢ Crying / Colic / Sleeping


➢ Caring for Yourself

➢ Parent – Child Relationship
➢ Safety / Emergency First Aid
➢ Self Esteem
➢ Quality Child Care
➢ Communication
➢ Accidents / Illnesses
➢ Shaken Baby Syndrome
➢ Preventing Child Molestation
➢ Car Seat Safety
➢ Discipline / Limits With Love
➢ Breastfeeding

➢ Your Baby's Development