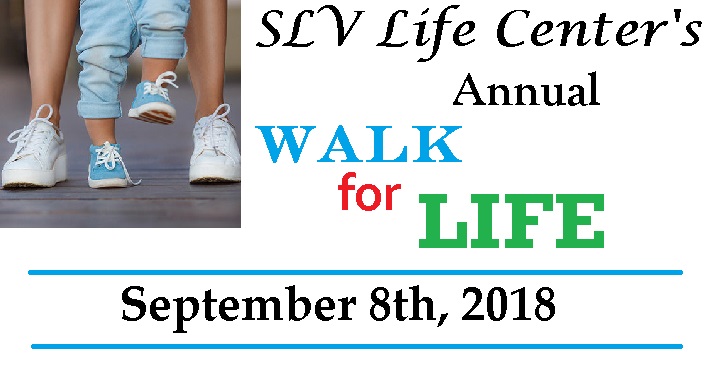 Alamosa Christian Church
410 McQuerry St.
Alamosa, CO
Registration at 8:00 A.M.
5K Walk/Run at 8:30 A.M.
Goal: 150 Walkers, $10,000
Every one of your steps and pledges gathered this month will be working toward making an impact in our Valley through the work of the SLV Life Center of Alamosa. Our free services serve over 300 clients per year in times of emotional, spiritual, and physical needs.
This is a fundraiser, so the sky is the limit!! You can get sponsors to support you or you can sponsor yourself, the choice is yours. There is a $10.00 cost to cover the t-shirt. Additional donations are appreciated and needed! The money raised during this fundraiser will be used to meet the needs of clients and the operating needs of the ministry. The Center
does not
accept any government funds and is dependent upon the generosity of its supporters! Help us make a difference in the lives of those in need!!
Each dollar you raise will make an impact in our valley through the work of the SLV Life Center. Our free services impact over 300 clients per year, helping meet their emotional, spiritual and physical needs.
Your pledges make a difference!
Use our Pledge Form and ask your friends, neighbors and businesses to support you as you walk for life.
Or
If you would like to sponsor yourself please use the Self Pledge Form.
Walk for LIFE Forms:
Sponsor Pledge Form
Fundraising Tips
Self Pledge Form
You can also register online!!
Register Here
Can't make the event, but want to help! Make a donation!!
Donate Online